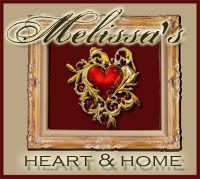 Melissa from
Melissa's Heart and Home
is having a Birthday! Instead of her getting some presents, she is giving some! A couple of very cute and beautiful presents are up for grabs!! Go visit and wish Melissa a very Happy Birthday and show her some love. If it is your first time to her blog, you will love her and be back often. You must see what she is giving away to 2 lucky winners! Happy Birthday to you Melissa, I hope it is wonderful just like you!!
I love this very cute Birdie sign...adorable!
Make sure to stop back tomorrow! I will be linking my post with Metamorphosis Monday...butterflies will be taking flight...and I will have the winner for Imperfectly Beautiful! If you haven't entered, today is the last day. So make sure you do before midnight pacifc time!

Hugs to you all!